Don't we all just want to feel safe and loved?
Total will be updated throughout the day.
Sandy spent her life working on a farm and having foals.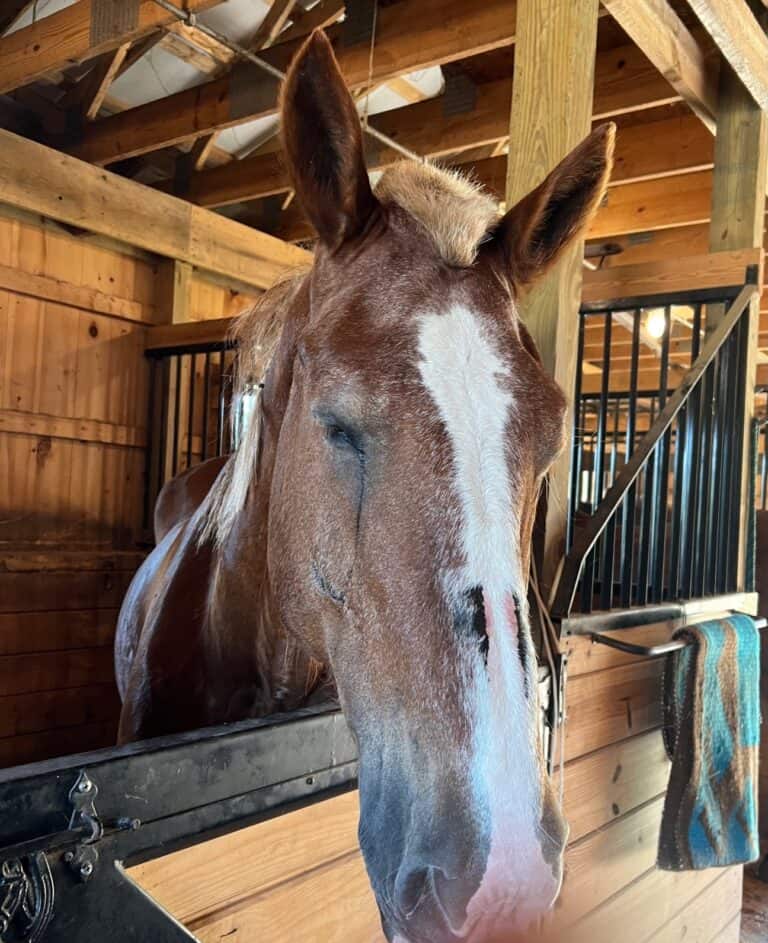 She worked season after season, crop after crop, year after year. While it may not hvae been the easiest life, at least it was familiar. She knew where she lived, she knew her herd mates, and she knew what to expect.
After giving all she had, this poor mare ended up in an auction barn, surrounded by strange people, and unfamiliar horses. She was set to be sold to the highest bidder with no regard for where she would end up.
For an old worn out mare, this is not a good place to be.
Sandy's story has a different ending. Draft Gratitude happened to be at the auction that day. It was clear that Sandy needed a safe place to land and it was Sandy's lucky day. It was a long day, as Sandy was one of the last horses to go through the sale.
Sandy loaded on the trailer without hesitation. I always wonder why they are so willing to hop on our trailer. They must somehow know they are safe.
Through it all Sandy was so brave. She was quiet, well behaved, compliant, and willing.
Sandy's care was started right off the bat. She had fresh water to drink and hay to munch on during the ride home.
Within a few days of arriving, her hooves were trimmed, her teeth were floated, and her belly was staying filled up. She was learning our new routines. She had a new friend. The veterinarian was scheduled to come out and meet her.
Everything was right on track. Except her right eye looked kind of different. And she bumped into a few things. And she liked to keep things in her left eye's line of sight.
Our veterinarian confirmed our suspicions.
She was completely blind in her right eye. But what we didn't know is that her vision in her left eye is also significantly impaired.
Knowing now that her vision is extremely limited, it's hard to even imagine what it was like for her to be taken away from her familiar home and then sold through an auction.
Sandy is the definition of stoic. She has endured so much hardship and took it all in stride. She has earned the safe retimerment that she is now enjoying. 
While Sandy is safe and getting the care she needs, there are so many more than need your help. Help us be redy to say yes to the next horse than needs us.
Will you help more horses like Sandy have a happy ending too?
A gift of $25, $50, $100 or more, gives them much-needed food, veterinary care, and farrier care to help ease their pain, making them comfortable again
With gratitude,
Rebecca Roy
Founder and Director
P.S. Make your best gift today to ensure we are ready to help the next one that needs us.
Help keep the big guys safe and comfortable.