Thank you for believing in what we do! Together, we are making a difference!
Tonka (Passed Oct. 2015)

Tonka came to us locally from a lady that was struggling with his strength. He had a chronic abscess in his right hind. We worked together with our vet and farrier to get his hoof cleaned up. We made changes to his feed program and gave him lots of space. His owner decided to give him a second chance.
Ryan (Renamed Wally in his Forever Home)
Ryan is a teen-aged Belgian gelding that came from a kill pen in Eastern Pennsylvania. He was a collaboration of donations from NH, MA, PA, TN, TX, DC, and Scotland! It was amazing team work!. One of our contributors adopted him and he is a doing great!
Sunny (Renamed Big Guy in his Forever Home)
Sunny went through a high risk auction in Canandaigua, New York. We were lucky enough to have a foster home for him until we were able to make the trip out to pick him up. His foster mom and her daughter fell in love with him and couldn't part with him. He is in a great forever home, has gained weight, and has a new best friend.
Morgan (Renamed Tank in his Forever Home)
Tank went through a high risk auction in Canandaigua, New York. We saved him and he went home from the sale with his new family. He is doing great and certainly living a new life style!
Lady (Renamed Tilly in her Forever Home)
Lady was a fairly young Belgian mare that was 4 legged lame. She was at the Bastrop kill pen in Louisiana. We worked with Equine Rescue Network(ERN) to get her safe. Her new mom picked her up that same day. She lived in Texas and was loved by all who had the pleasure of meeting her. Tilly has passed away. We are thankful to Gayla for giving her a soft landing and a peaceful and gentle passing.
Captain (In a Safe Forever Home)
Captain came from New Holland, PA in May of 2015 as part of a joint effort with Equine Rescue Network (ERN). Captain had a very irritated eye that turned out to be Squamous Cell Carcinoma. Dr. Ted Johnson from the VT-NH Veterinary Clinic removed his eye. Captain still has scabs on his nose which we are watching closely. He is a very smart, very fun, very grateful and very forgiving horse. Captain's new adopted Mom has had him seen at Cornell to have the remaining cancerous scabs removed from his nose.
Sylvia (In Her Safe Forever Home)
Sylvia joined us in the spring of 2015 from an auction in New Holland, PA. She was a very sweet and very smart mare.
Sylvia was adopted.
Sylvia later presented with a hoof an infection that turned out to be Squamous Cell Carcinoma. Her hoof was severely compromised and she was humanely euthanized by her adopted family.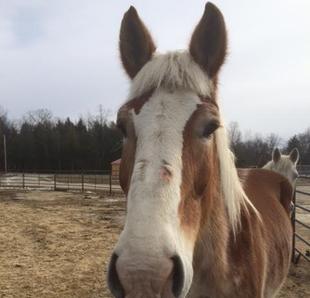 Belle (Passed July 29, 2016)
Belle came to us from Eastern Pennsylvania in December of 2015. She was an aged Belgian mare and the inspiration of our "Belle's Fund for Veterinary Care". Belle had advanced ring bone arthritis. We had her front hooves trimmed and balanced after taking some digital X-Ray images. We managed her chronic paid as best as we could with pain medicine, corrective trimming, nerve blocks, Reiki, and more. Her quality of life was always our focus. Belle is resting peacefully and is no longer in pain. We miss you sweet girl!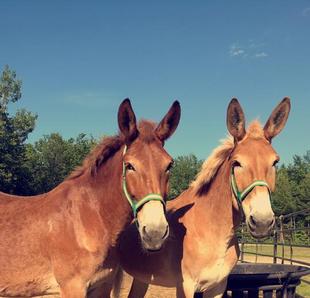 Belgian Molly Mules
Meet the Belgian Molly Mules! These two came to us from a high risk auction in New York. We had a volunteer planning to bid for us on a Belgian gelding, and somehow she bid on one of these molly mules. She then realized that the mule she bid on had a bonded teammate. And then there were two! We are grateful to the other bidder of the other mule to let us buy her back so that we could keep the team together. The molly mules were adopted together and will stay together as a pair. They are doing great in their new home!
Pepper (Passed Dec. 19, 2016)
Pepper came to us from a high risk situation in Western Pennsylvania in November of 2015. She is a 23 y/o Percheron mare. She is trained to ride and work. She is quite a character. She loves to splash in water and has all kinds of tricks up her sleeve! Pepper was diagnosed with a tumor in her bladder. She was humanely euthanized on our farm. We are honored to have provided her with quality care and a loving home at the end of her life. Rest easy sweet girl!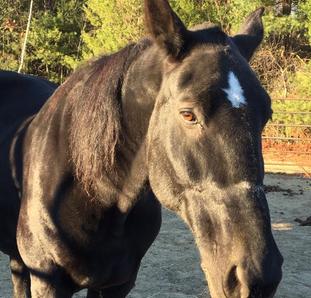 Domino (Adopted)
Domino is a 15 year old Percheron gelding. He came from western New York. Domino drives, but we have not had a chance to try riding him yet. Once he is through quarantine, he will be having his hooves trimmed, his teeth floated, and getting his vaccines.

Domino is now living in Maine in his forever home!
Judy (Adopted)
Judy came to us from a high risk situation in Western Pennsylvania in December of 2016. She is an aged Belgian mare, very sweet, very smart, and quite thin. She is at a foster home in New York during her quarantine period. She will be having her hooves trimmed, her teeth floated, and her vaccines administered there.

Judy was adopted by a couple in New York. She is now a retired Belgian. <3
Trooper (Passed Apr. 17, 2017)
Trooper is a Belgian gelding from a high risk auction in New York. He ended up being bought by a kill buyer to ship to slaughter. Thankfully, we were able to track him down and buy him privately. He has an enlarged right front knee. We hope to get him as comfortable as possible. Joining the monthly giving team would be an amazing gift as he will have extensive veterinary expenses. Trooper shares a paddock with Pepper whom he seems to have fallen for!

Trooper peacefully passed over the Rainbow Bridge.
Charlie (Passed Apr. 17 2017)
Charlie is a late teens Belgian gelding that came to us from western New York. He was separated from his teammate at an auction. He has some lameness issues, and is a bit unsteady in his hind end.

We are working with our veterinarian to determine how we can help him the most.

Charlie peacefully passed over the Rainbow Bridge.
Madison (Adopted)
Madison came to us from a high risk situation in Western Pennsylvania. She is an aged Belgian mare, very sweet, very smart, and quite thin. She has an old injury in her hind end that has caused some lameness. She is in a safe home where her comfort and quality of life are a top priority. Draft Gratitude is still involved in her veterinary care due to the nature of her lameness. We are very thankful that she is in a safe, forever home.
Bailey (Adopted)
Bailey is a Belgian mare around 17 years old. She arrived with grossly overgrown hooves. We have made incredible improvement with her hooves, she's had her teeth floated, her vaccines, and is microchipped. She is on Equioxx to help with arthritis. Bailey is a very quiet and well mannered mare. She is a gem.

Bailey has found her forever home!
Megan (Adopted)
Megan is a 16 year old mare. We were told she was a Canadian Curly. Turns out she is a Galiceno which is a very rare breed that is now considered critically endangered by the Livestock Conservency. Meg has heaves (COPD) and cushings. She has improved dramatically. Although she can be a little bossy, she is very gentle with children.

Megan has found her forever home!
Rosie is an 18/20 year old Belgian molly mule that came out of Unadilla, New York. She is just a doll! Very quiet and sweet. She was very thin, dehydrated, and tired when she arrived.
Today, Rosie is in good body condition but has some lameness issues in her right hind. Our founder adopted her and will live our her days on the farm.

Rosie has a part-time job at Rosie's Farmstand where she will be greeting customers a few days per week.
Duke (Adopted)
Duke is a Belgian gelding that came from western New York. He is in is mid teens. Duke seems to be a great boy! He is a little skittish with fast movements, but we are giving him plenty of time to get settled in. He has been seen by our veterinarian and will have his hooves trimmed this week. Duke has found his forever home!
Pearl (Adopted)
Pearl joined us in February 2017. She was in horrific condition when she arrived. Thankfully, she blossomed with appropriate care. She was rehabilitated and was adopted at the end of July 2017.

Through no fault of Pearl's, or her adopter's, it just wasn't the right fit. Pearl came back to us about a month later. She went right back in her paddock with Jimmy, Big Jake, and Anne, as if she had never missed a day.

Pearl left at the end of October 2017 for her second try at a forever home. Thank you Matt and Brie for providing Pearl a safe home! So far so good. Pearl seems relaxed and is settling right in.If Pearl does need to come back, we will be waiting with open arms. Good luck Pearl!
Mae (Passed 1/9/2018)
Mae was an aged Belgian molly mule. She arrived in very poor condition. Over the span of nine months, she improved immensely. Her body condition score was where it should be, but she was often sore.

Mae was an absolute treasure. It was a privilege to care for her while she lived out her life with us.

Rest easy Sweet Mae-Mae!
King (Adopted)
King came to us from western New York. We are thrilled that we were offered the chance to save him BEFORE he was sent to an auction. King is in very poor condition but is improving every day. He is a kind horse. He came to us filthy and sore. Appropriate feeding and exercising is making a difference already!

King found a great home!

Babe (Passed)
Babe joined us off a farm in western New York. Babe had experienced a significant injury of some type to her hind end. She was very unstable Based on our veterinarian's recommendation, Babe was humanely euthanized after spending a few weeks with us. We are grateful that Babe was able to spend her last few weeks with us being loved and cared for.



Merlin (Adopted)
Merlin is a teen-aged Percheron gelding. His is thin and his hooves need a lot of work. He is very sweet and very quiet.

Merlin has Chronic Progressive Lymphedema. This is caused from untreated leg infections. Merlin is very quiet and very well trained. He will thrive in a home that will commit to some extra care for his legs. Merlin found a great home on a small farm.
Big Jake (Passed)
Big Jake Big Jake ended up in the hands of a kill-buyer in South Carolina in January of 2016. Through a joint effort with Equine Rescue Network (ERN), we were able to save him and get him into a safe foster home. He arrived to our facility in February. He is an older Belgian gelding with one eye. Big Jake is settling into his new home and is very sweet.home!

Big Jake lived out the last two years of his life with us here. He was loved and cared for. Rest in peace Big Jake!
Bob (Adopted)
Bob is a 10-12 year old Belgian gelding. He joined us at the end of August. He has very good manners and is pretty good with his feet. He has been ridden a few times and seems to do quite well! Bob has heaves which has been controlled with environmental management. There are many treatments available for him if he did struggle at certain times of the year. Bob has been adopted. He is be doing some light trail riding.
Rex (Passed)

Rex is a 25 + year old Percheron gelding. He joined us from Western Pennsylvania in March of 2018. Rex is very thin. He is missing several molars and the ones that he still has were very sharp. We have worked with his mouth to provide as much comfort and use as possible. Rex was having recurring colic causing discomfort. We gave him lots of love and let him pass peacefully. <3
Sol (Adopted)
Sol was adopted by one of our volunteers! He is a very lucky guy living out his retirement about a half hour from our barn!
Clover (Passed)
Clover is a 20 y/o Belgian molly mule. She is a retired farming mule in pretty good body condition. She appears sound. She does have drainage in her left nostril that is linked to a chronic sinus infection/tooth infection that needs to be addressed.

Clover's age, combined with her veterinary needs, put her at risk. We are hopeful that she will be very adoptable once we can get her healthy. So far, she is very sweet, has a lot say, and is full of personality.

Clover was euthanized when she started showing signs of discomfort from the mass in her sinus. Thanks for joining us here Clover! Rest easy.
Doc (Adopted)
Doc is a late teens draft horse who had farmed his entire life. he reached that age where he wasn't able to keep up with the work load of a younger horse. We were able to give Doc a second chance and found him a safe forever home where he will live out his days.
Samuel (Passed)
Samuel was euthanized after the canker returned to all four hooves in combination with a painful disease attacking his coronary bands. Samuel was an amazing horse, we are grateful to have had him in our care. Rest easy sweet boy, no more pain.
Bill (Adopted Jan 2019)
Bill is a 15 y/o (ish) Percheron gelding. Bill came directly off a farm in wester New York. Bill's weight and hooves need improvement, but we've seen much worse. However, the more glaring concerns are that Bill has a raw/flesh showing, infected bridle path. He also has a condition called paraphimosis (inability to retract his penis). Bill had surgery to partially amputate his penis. This is been an incredible help to him. No more pain, no more infection. He can pee normally and will live a healthy and productive life.

Bill is available for adoption.
Jimmy
(Euthanized Jan 2019)
Meet Jimmy! Jimmy is 16 ish years old, a Belgian gelding, and super sweet!
He has a neurological condition called Shivers. In the meantime, we are treating his infected tooth, he is taking an anti-inflammatory, vitamin E, and we are working on the best diet for him.
He has improved greatly and are thrilled to have him here with us!
Red (Euthanized February 2019)
Red came to us off a farm in New York. He was in very poor condition. While he was not with us for a long time, we are grateful to have been able to give him great care and pain relief during his last few days. Red was humanely euthanized and is now resting comfortably. Red had many fans who followed his story and helped with his care.

Thank you.
Odin (Adopted April 2019)
Odin is an aged Belgian gelding. He joined us from Western Pennsylvania in March of 2018. He was quite thin when he arrived. We had some dental work on him and have been feeding him appropriately. He looks great! Odin is available for adoption. He would do best in a home with shoeing stocks available as that seems to be the easiest for him to be trimmed.
Odin is now living in Maine. He found a fantastic home and is retired.
Ellie (Euthanized March 2019)
Ellie joined us from western NY. She was very sore when she arrived with an infection in her front right hoof and arthritis in her left front knee. She has been seen by our veterinarian and is on antibiotics and pain medicine.

Ellie is very sweet and we are happy to be able to help her.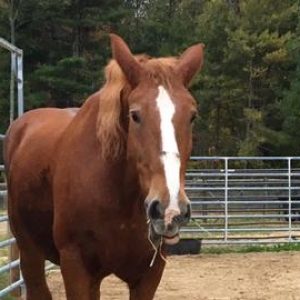 Cindy (Adopted March 2019)
Cindy is a 20 y/o Belgian mare. She joined us from an auction in New York. She arrived in good body weight, but needing attention to a swollen hind leg and hoof care.

She has been seen by our veterinarian, had had her hooves corrected and is settling in quite well! She will be available for adoption soon.

Cindy is now living in Maine. She is doing some light farm work and riding.