Our Mission: Saving Draft Horses From Slaughter by providing a second chance and a place to call home.
We are an all volunteer organization dedicated to saving the lives of draft horses that were bound for slaughter, victims of neglect or abuse, or whose owners are unable to provide for their needs. Learn more about Draft Gratitude and what we do here!
Learn more about what you can do to help. Become a volunteer, adopt, donate, there are even free ways to help! There are so many ways to make a difference in these horses' lives. Nothing is too small.
Meet the horses in our care. These gentle giants may have had a rough life, but now are starting to breathe easy knowing they're in a safe place. We also have a page with our horses who have found their Forever Homes
Video by: LightStream Associates | Hancock, New Hampshire

Large Animal Rescue Training : MUD
Join us for a day of learning how to approach and execute equine mud rescue. 
Topics will include team safety, characteristics of horses in stressful situations, safe horse handling, equipment needed and technical aspects of mud rescue. Click the Image to learn more or Register using the button. 
Join us for the first Saturday of each month for an open barn visiting day and spare change drive! 
From 10am-12noon, stop by to meet the horses. Learn more about the work we are doing, and donate spare change that will be used towards their care. 
Open to all ages.
Please no treats for the horses! 
If you would like to bring the horses some food, the grain that we feed is called Legend's Carb Care Senior (~$20) and Southern States Hay Stretcher (~$14).
Both are available at:
Greenfield Farmers Cooperative, Greenfield MA.
Achilles Agway, Keene NH.
Achilles Agway, Brattleboro VT.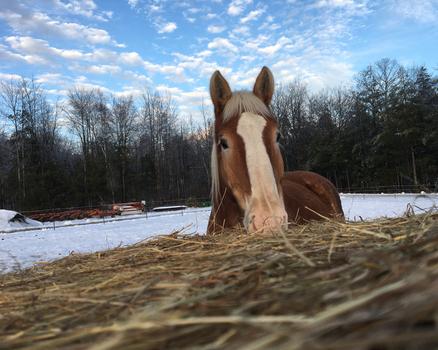 Monthly Giving is an amazing gift that has a HUGE impact on our ability to provide care to rescued draft horses.
Join the Monthly Giving Team today for just $12/month! We would love to have you on the team!