Our Mission: Saving Draft Horses From Slaughter by providing a second chance and a place to call home.
We are an all volunteer organization dedicated to saving the lives of draft horses that were bound for slaughter, victims of neglect or abuse, or whose owners are unable to provide for their needs. Learn more about Draft Gratitude and what we do here!
Learn more about what you can do to help. Become a volunteer, adopt, donate, there are even free ways to help! There are so many ways to make a difference in these horses' lives. Nothing is too small.
Meet the horses in our care. These gentle giants may have had a rough life, but now are starting to breathe easy knowing they're in a safe place. We also have a page with our horses who have found their Forever Homes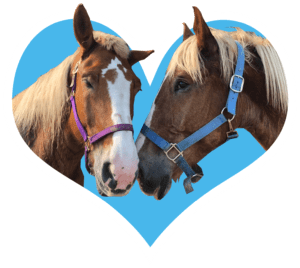 Please, Donate to Help Mike & Sophia
Love is blind. Support the care, shelter, and safe fencing for two blind draft horses.
Video by: LightStream Associates | Hancock, New Hampshire
Monthly Giving is an amazing gift that has a HUGE impact on our ability to provide care to rescued draft horses.
Join the Monthly Giving Team today for just $12/month! We would love to have you on the team!