Providing a Second Chance and a Place to Call Home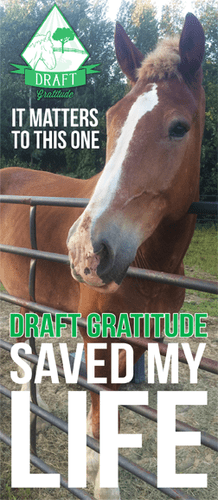 There is an endless supply of aged draft horses that end up being slaughtered every day. These are the same horses that have worked tirelessly their entire lives. Often they are quiet, well trained, talented horses with plenty of life left to live. They deserve a second chance and a place to call home.
Draft Gratitude, along with your help, rescues draft horses from kill or neglect type situations. Once rehabilitated, these horses are paired with qualified adoptive homes to be used for light work including farming, homesteading, pleasure driving and riding, and companionship. Horses that are not able to be adopted for any reason will live our their lives in our care.
Draft Gratitude is an all volunteer organization. Our volunteers and contributors make saving lives possible. Caring for these deserving draft horses is an honor and we are thrilled to be able to provide a soft landing for as many as we can. Thank you for being part of this amazing team!
We love to share our passion about saving draft horses. We are available to speak at civic group meetings, horse clubs, or church groups. Please contact us if your organization is interested in learning more about what we do.

Each Week, Horse nation teams up with Ovation Riding to spotlight an individual or organization doing good work in the horse world. Today, we're recognizing Draft Gratitude, a draft horse rescue in New Hampshire… [ continue reading]

Now that winter has arrived, our hay seems to get eaten up faster and faster! But that's OK! In fact, it is what we want. In many studies, and in my experience, horses with access to quality hay 24 hours per day a better able to maintain… [ continue reading]
On a crisp, sunny March afternoon, Rebecca Roy parks her truck at the end of a roundabout dirt driveway. The task at hand is checking on Pearl, the latest addition to Draft Gratitude, a horse rescue that gives retired draft horses a… [ continue reading]