One day an old man was walking down the beach just before dawn.  In the distance he saw a young man picking up stranded starfish and throwing them back into the sea.  As the old man approached the young man, he asked, "Why do you spend so much energy doing what seems to be a waste of time?"  The young man explained that the stranded starfish would die if left in the morning sun.  The old man exclaimed, "But there must be thousands of starfish.  How can your efforts make any difference?"  The young man looked down at the starfish in his hand and as he threw it to safety in the sea, he said, "It makes a difference to this one!"
Thank you for believing in what we do! Together, we are making a difference!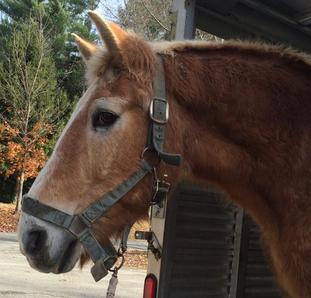 Grady, Our Very Frist Rescue!
Grady arrived from a kill pen in Western Pennsylvania in November of 2014. He was aged, emaciated, and in very poor overall health. Unfortunately, he was only with us for a few days, but we were grateful to be able to surround him with love when he passed over the Rainbow Bridge. RIP Sweet Boy!
Big Ben (In Our Care)
Big Ben came from a kill pen in Western Pennsylvania in November of 2014. He is an aged Belgian gelding and a very sweet boy with amazing manners. He picks his feet up, he lowers his head for his halter and leads with just a rope around his neck. He has some arthritis and loves to nap. He takes his retirement seriously. Big Ben is very bonded with Jetstar, they are great friends.
Jetstar (In Our Care)
Jetstar came from a kill pen in Western Pennsylvania in April of 2015. He is an aged Percheron gelding. He came to us emaciated, scared, and difficult to handle. It took several months for him to settle in and feel safe. He had diarrhea for many months until we finally found a feeding program that worked for him. He has been gaining weight, and appears so much better. He actually plays now and is getting to be a little bit bossy! He is a very sweet boy who has bonded very tightly with Big Ben, they are the best of friends.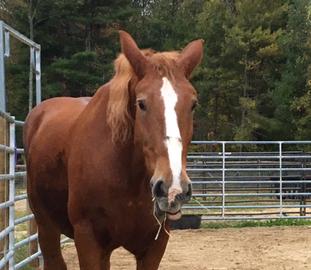 Cindy (In Our Care)
Cindy is a 20 y/o Belgian mare. She joined us from an auction in New York. She arrived in good body weight, but needing attention to a swollen hind leg and hoof care.

She has been seen by our veterinarian, had had her hooves corrected and is settling in quite well! She will be available for adoption soon.
Bella (In Our Care)
Bella is an aged Belgian mare. She is very quiet and sweet. She just joined us in July. We are working on her initial care, getting her hooves trimmed, her teeth floated, being seen by our veterinarian, and feeding her appropriately.

Bella has been gaining weight and improving dramatically.
Beau (In Our Care)
Beau came from a kill pen in Eastern Pennsylvania. He is a teen-aged, very handsome, Belgian gelding with arthritis in his left front knee and shoulder. He was VERY lame when he arrived here. We had his hooves trimmed correctly and he is taking joint supplements. He has some occasional bute (an anti-inflammatory), but for the most part is doing quite a lot better. He is a bit timid but we are slowly gaining his trust.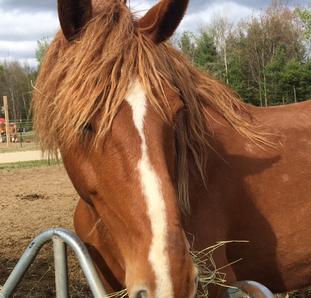 Anne (In Our Care)
Anne is a 17 y/o Belgian mare that came directly off a farm in western New York. She is a very sweet gal. She is blind in her left eye, is very thin, and has pastern osteoarthritis in her right front. We have started her on Equioxx to help with her pain level.
Anne has returned to a normal weight. She is often sore on her right front but is enjoying being retired.
Jimmy (In Our Care)
Meet Jimmy! Jimmy is 16 ish years old, a Belgian gelding, and super sweet!
He has a neurological condition called Shivers. In the meantime, we are treating his infected tooth, he is taking an anti-inflammatory, vitamin E, and we are working on the best diet for him.
He has improved greatly and are thrilled to have him here with us!
Odin (In Our Care)
Odin is an aged Belgian gelding. He joined us from Western Pennsylvania in March of 2018. He was quite thin when he arrived. We had some dental work on him and have been feeding him appropriately. He looks great! Odin is available for adoption. He would do best in a home with shoeing stocks available as that seems to be the easiest for him to be trimmed.
Kass (In Our Care)
Kass is a 20 y/o Percheron mare. She just joined in the fall on 2017! She is very sweet but was in poor condition. We have gotten her cleaned up, she has met our veterinarian, and we have started a safe feeding program with her.

She has Chronic Progressive Lymphedema in her right hind leg. We are also working on getting the swelling in her leg under control. We recently found out that Kass has Cushings. She has been started on medication and we are hopeful that treating the Cushings will also have a positive impact on the CPL in her right hind leg.
King (In Our Care)
King is a Belgian gelding around 8 years old. King has a very severe case of Chronic Progressive Lymphedema. King's fate was being sold to the meat buyer. We have stepped in and are giving him a fighting chance. His prognosis is very guarded, but we will give him the best care we can under our veterinarian's guidance.
Jerry (In Our Care)
Jerry is an aged Belgian gelding who joined us from western New York. He is quite thin and showed some signs of a laminitic episode. Thankfully we were able to make some angle corrections during a hoof trim and seems to be quite comfortable now. We a refeeding him safely and he is improving every day! Jerry will be available for adoption soon.
Ellie (In Our Care)
Ellie joined us from western NY. She was very sore when she arrived with an infection in her front right hoof and arthritis in her left front knee. She has been seen by our veterinarian and is on antibiotics and pain medicine.

Ellie is very sweet and we are happy to be able to help her.
Georgia (In Our Care)
Georgia is a 17 year old Grande mare. Georgia has arthritis in her front right. She has been started on Equioxx and we also have started her on an appropriate feeding program to get some weight back on. We don't have much information on her abilities yet, but we are anxious to learn more about her!
Tess (In Our Care)
Tess is a 17 year old Belgian mare. We are working on improving her weight and then will start learning more about what she can do. She seems very quiet and willing to please.

More details to come!