One day an old man was walking down the beach just before dawn.  In the distance he saw a young man picking up stranded starfish and throwing them back into the sea.  As the old man approached the young man, he asked, "Why do you spend so much energy doing what seems to be a waste of time?"  The young man explained that the stranded starfish would die if left in the morning sun.  The old man exclaimed, "But there must be thousands of starfish.  How can your efforts make any difference?"  The young man looked down at the starfish in his hand and as he threw it to safety in the sea, he said, "It makes a difference to this one!"
Thank you for believing in what we do! Together, we are making a difference!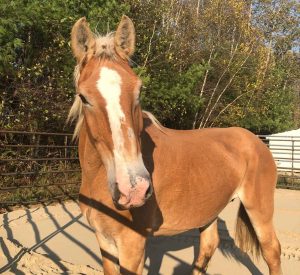 Bertina joined us off a farm in New York.  She is blind in her left eye.  She also has severe ring bone arthritis in her right hind.  She is a smaller draft, very kind and a little shy.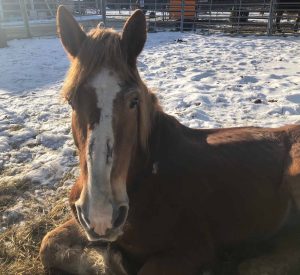 Bill joined us off a farm in New York.  He is an aged Belgian gelding.  He has worked for many years. Bill has osteoarthritis in his right hock (knee), its enlarged, but he seems to manage quite well with it.  Bill is still gaining weight and we are managing the arthritis pain with Equioxx.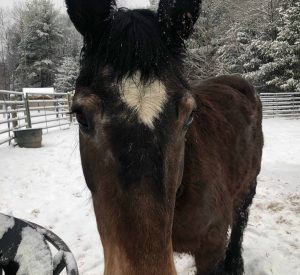 Pixie joined us from an auction in Pennsylvania. She is an aged Percheron mare. She is thin, has some skin issues, need hoof care, and dental care.  She has been seen by our veterinarian and we are making progress!  She is very sweet and genuinely appreciates the care she is being given.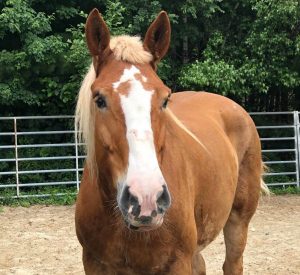 Sophia joined us from Gerda's Equine Rescue in Vermont. She is fully blind and needed a sanctuary home.
We welcomed Sophia to be Mighty Mike's companion. They will live our their lives together here with us.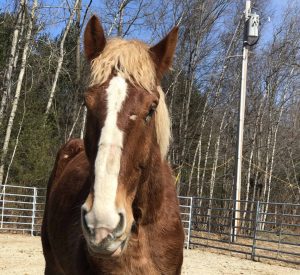 Welcome Mighty Mike! Mike joined us from western New York. He is around 18 years old and a big guy at nearly 19 hands! Mike is quiet, brave, and very well mannered. He is also blind in both eyes. He is in a safe paddock with a buddy. We are working on his nutrition, hoof care, and de-worming. He was seen by Animal Eye Care of New England to confirm what vision loss he has experienced and also to make sure that chronic pain was not part of the loss. So far so good! More updates to follow.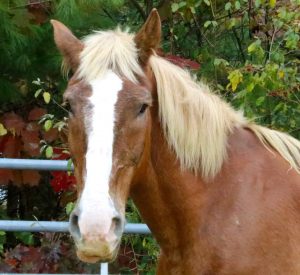 Bess is an aged Belgian mare. She is quite thin and recently weaned a foal. She seemed very worried when she arrived. We are working on her body condition and giving her lots of love and time. Bess's body condition has improved, she looks great! She was diagnosed with EPM, a neurological condition. We have completed a round of treatment and have seen a lot of improvement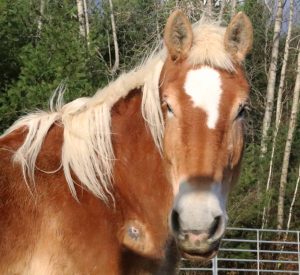 Bert is a mid-teens Belgian mare who joined us off a farm in New York. She is gaining weight and seems to be very outgoing. Her background is farming and we don't know if she had any riding experience at this time. Bert is sound, has gained weight, and is very sweet. She has been a farming horse her whole life. We done a few rides on her. It was new to her, but she did very well. Bert is available for adoption.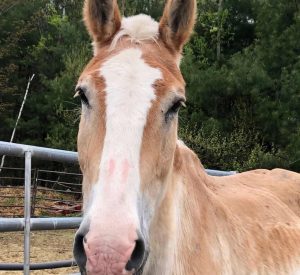 Charlie is a 18 year old Belgian gelding that joined us from an auction in New York. He is very sweet and has great manners. Charlie has some weight to gain and some soreness to contend with. We hope he will be available for adoption in the near future.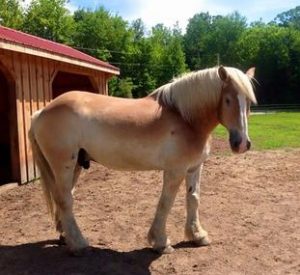 Beau came from a kill pen in Eastern Pennsylvania. He is a teen-aged, very handsome, Belgian gelding with arthritis in his left front knee and shoulder. He was VERY lame when he arrived here. We had his hooves trimmed correctly and he is taking joint supplements. He has some occasional bute (an anti-inflammatory), but for the most part is doing quite a lot better. He is a bit timid but we are slowly gaining his trust.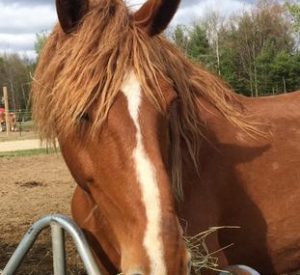 Anne is a 17 y/o Belgian mare that came directly off a farm in western New York. She is a very sweet gal. She is blind in her left eye, is very thin, and has pastern osteoarthritis in her right front. We have started her on Equioxx to help with her pain level.
Anne has returned to a normal weight. She is often sore on her right front but is enjoying being retired.
Jerry is an aged Belgian gelding who joined us from western New York. He is quite thin and showed some signs of a laminitic episode. Thankfully we were able to make some angle corrections during a hoof trim and seems to be quite comfortable now. We a refeeding him safely and he is improving every day! Jerry will be available for adoption soon.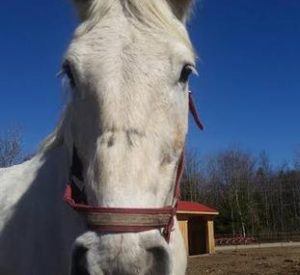 Jetstar came from a kill pen in Western Pennsylvania in April of 2015. He is an aged Percheron gelding. He came to us emaciated, scared, and difficult to handle. It took several months for him to settle in and feel safe. He had diarrhea for many months until we finally found a feeding program that worked for him. He has been gaining weight, and appears so much better. He actually plays now and is getting to be a little bit bossy! He is a very sweet boy who has bonded very tightly with Big Ben, they are the best of friends.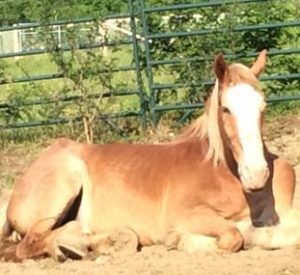 Big Ben came from a kill pen in Western Pennsylvania in November of 2014. He is an aged Belgian gelding and a very sweet boy with amazing manners. He picks his feet up, he lowers his head for his halter and leads with just a rope around his neck. He has some arthritis and loves to nap. He takes his retirement seriously. Big Ben is very bonded with Jetstar, they are great friends.