WINCHESTER — After they were both rejected for their disabilities, two blind draft horses recently found a safe and stable home at a Winchester horse rescue.
But in order for them to stay at Draft Gratitude, Sophia and Mighty Mike need their own permanent paddock built. The rescue has started a fundraiser to help offset the cost of nearly $8,000.
"Their handicap may have ended their ability to serve humans, but they still each deserve to live out the safe and loving retirement they have earned," Rebecca Roy, founder of Draft Gratitude, said in a news release on the fundraiser.
Draft Gratitude, at 148 Ashuelot St., is an all-volunteer nonprofit organization that gives unwanted draft horses a place to call home.
Sophia, who is about 14, was the most recent to join the rescue, falling under Roy's care about two weeks ago.
She was purchased by Gerda Silver, founder of Gerda's Equine Rescue in West Townshend, Vt., a week before she would've been sent to a slaughterhouse in Mexico, according to the release.
Roy said Silver reached out to her for help finding Sophia a forever home, and after a month of quarantine, Sophia was brought to Draft Gratitude.
"She's really settled in," Roy said in an interview. "When she was transported by Gerda's volunteers and brought in, the volunteers said more than once, 'Wow she is so calm. She is so relaxed.' So she definitely feels comfortable here, even just on that first day."
Mighty Mike, who is about 16, came to Draft Gratitude in February from a farm in western New York.
He wasn't able to help with the farm's work, and the cost of feeding him outweighed the benefits of keeping him, according to Roy.
Draft Gratitude already had a relationship with this farm, which reached out to see if the rescue could take Mighty Mike before the farm sent him to auction, she said.
"Mike arrived very thin and filthy. He is blind in both eyes, but he's extremely brave and well adjusted," Roy said in the release. "Over the past few months, he has reached an appropriate weight, and he looks healthy and handsome after shedding his winter coat."
Roy said the two horses hit it off almost instantly. Now after a couple of weeks together, they've become attached at the hip, eating from the same hay basket and following each other around the paddock.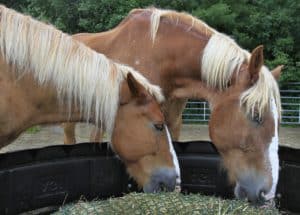 But, she said, the two need more room and a secure place to live out the rest of their years together.
Sophia and Mighty Mike are currently in the rescue's quarantine paddock, a temporary space for new horses coming onto the farm.
Roy said that the other horses at the rescue are placed in paddocks of five or six, but with Mighty Mike and Sophia being blind, it's too risky to put them with that many others.
"I am hesitant to put them in a bigger group because that's how accidents happen," she said. "If one horse pushes a blind horse, and the blind horse goes through a fence, it's dangerous, and it's not fair."
The funds the organization raises will go toward building a paddock exclusively for Mighty Mike and Sophia, secured with safe-to-touch mesh fencing in case the horses bump into it.
The secure fencing will cost about $2,500. A run-in structure for shelter will also be in the new paddock, priced at roughly $5,300. The horses also need monthly or annual sponsors to help with food and medical expenses, which Roy estimated at about $12 a day per horse.
"To have found each other is a real-life love story that should be allowed to live on and flourish," Roy said, "but we need heroes to help us make that happen."