Draft Gratitude's Jetstar
Jetstar joined us back in April of 2015.  He is an aged Percheron gelding.  He arrived late at night, was scared, skinny, and filthy.  
Over the next few days we worked on getting him cleaned up.  He was able to munch on hay and had access to fresh water.  Although he was still scared, he was very well behaved and good to work around.
Once he was finished with his quarantine, he was introduced to Big Ben.  This was the beginning of their very special bond.  As two senior draft horses, who most likely had been part of teams in the past, they bonded immediately.  They stuck together all the time.  One would nap, and the other would stand over watching.  They ate together.  They drank together.  They did just about everything together.
By this time, Jetstar had had the works.  His hooves were trimmed, his teeth were floated, he had been de-wormed, vaccinated, and was being fed safe and appropriate food.
But even after a few months, he just wasn't gaining weight.  And he had diarrhea. 
Jetstar can be a nervous horse at times.  He clearly has a sensitive belly.  We tried many different grains.  We tried first cutting hay and second cutting hay, and chopped hay, and alfalfa pellets.  We tried adding oil, beet pulp, high fat grains, probiotics, prebiotics.   We kept trying and trying and trying.  After six months, his skin and coat looked amazing, but his weight was still very poor, and he still had diarrhea.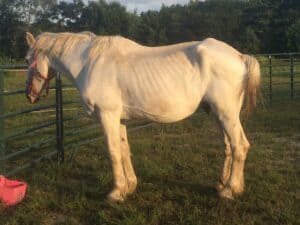 I talked to multiple veterinarians, multiple feed reps, anyone I could think of that might be able to lend a suggestion. 
I will forever be grateful to Dr. Jerilyn Jacobs who took my call one day.  She went back to the basics with me and we did some math.  Yes, math.  We talked about total calories, fiber calories, fat calories, what he was getting, what he should be getting, and what we could try to get moving in a better direction. 
We reduced fat calories, added fiber calories, and we began to see results!  His poop went back to normal, and he FINALLY started gaining some weight.  
It was literally a full year before Jetstar reached a reasonable weight.  The following years he even could have been called chunky, but don't talk about that.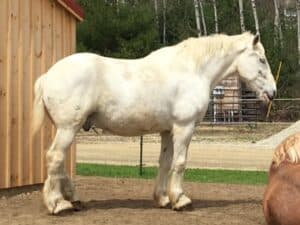 Present day Jetstar is quite a character.  He finds any spec of mud in his paddock and wears it proudly. He is still a nervous horse. He notices when ANYTHING has been moved in the barn.  He snorts at blankets, shadows, buckets, the wheelbarrow, anything that is out of place.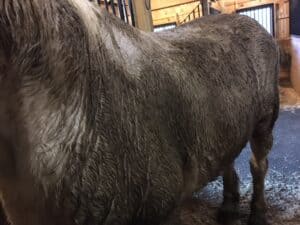 In fact, when it's his turn to come inside the barn for a vet appointment or a farrier appointment, we bring Big Ben in with him for moral support.
The interesting thing about Jetstar is that while he is a nervous boy around people and any sort of change, he turns into a flat-eared, teeth-baring, galloping beast when a new horse is added to the paddock he shares.  Who knew? 
Some think that Jetstar is the alpha horse of the group.  But Big Ben is who really rules the roost while having Jetstar do all the work. 
Herd dynamics are amazing to watch.  Big Ben and Jetstar have been with us for about 6 years.  They will live out their lives here together in sanctuary.  Jetstar has come a long way.  We are grateful that he feels safe with Big Ben and that they have each other.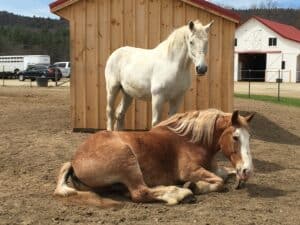 Draft Gratitude is a nonprofit, all volunteer organization located in Winchester, New Hampshire.  Founded in 2014, Draft Gratitude focuses on providing a second chance and a place to call home for senior draft horses.
To learn more about the importance work we do, visit www.DraftGratitude.com